Grow your Business With Google Ads
Show Your Site to The Right Users At The Right Time With Google Ads. Afrak, Google Premier Partner Will Show businesses In The Best Position To All Google users.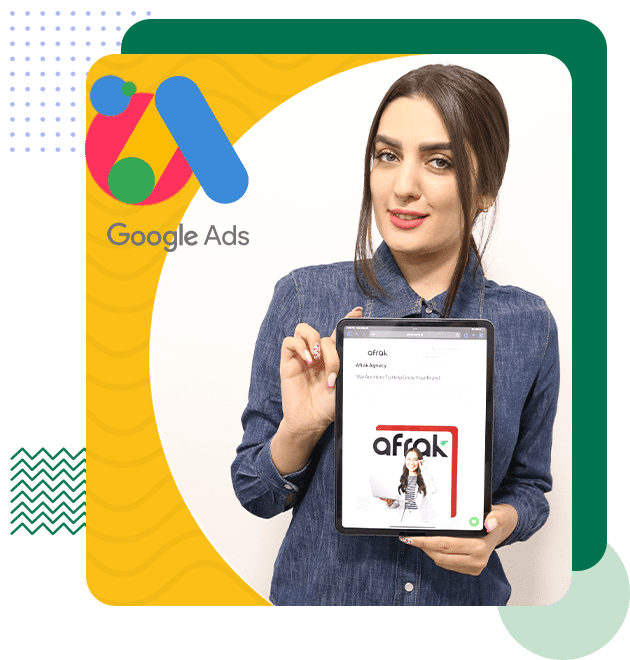 How Google Ads Works?
Google Ads Operates Under a Pay-Per-Click (PPC) Model. That Means Marketers Target a Specific Keyword On Google And Make Bids On The Keyword — Competing With Others Also Targeting The Keyword.
Advantages Of Advertising On Google
INCREASE SALES & LEADS
Advertise Your Business With Google Adwords And Increase Sales Or Leads. Whether You Are An Ecommerce Store, Service Business, Corporate entity or one-man band, you can use Adwords to launch effective PPC campaigns and bring in tons of sales or leads.


INCREASE TRAFFIC
Increase traffic to your website with targeted Ads that boost performance. Adwords Ads are quick to launch and within minutes you can start driving qualified traffic to your website, unlike other traffic sources. Let me help you launch your campaigns and start driving traffic today.


BEAT THE COMPETITION
I'll create effective, targeted ads that differentiate your business from its competitors. As Adwords traffic has become more expensive and it is now harder to create a unique offer online, you need an expert that will help you achieve this and boost your campaign performance.


BOOST ROI
Unlike other traffic sources and online channels, PPC traffic is highly measurable and you can easily calculate your return on investment. With the wealth of measuring tools and reports available that make analysis easy, I'll maximum every penny that you spend on your Adwords and Bing Campaigns.


contact us